YouTube has been one of the most popular websites on the internet for years. It's a great way to watch your favorite videos, but sometimes it can be annoying when the "Are you still watching?" message pops up. Here's how to turn off "are you still Watching YouTube" on mobile and Computer that make your YouTube experience more enjoyable.
Why is YouTube Asking you the "Are You Still Watching?" message?
YouTube pays content creators based on ad revenue. The more people that watch a video, the more YouTube will pay the creator. YouTube uses an algorithm to estimate how much time a person spends watching a video. If YouTube thinks you're not actually watching the video, it won't pay the creator as much. YouTube asks "Are you still watching?" as a simple way to check if you're actually still watching the video or if you've just left it playing in the background. If you're not really watching, YouTube doesn't want to pay the creator for showing you ads. So YouTube is just trying to save money by making sure people are actually watching videos before showing them ads.
Also, reason why YouTube might show you the "Are You Still Watching?" messages. One is that you've been idle for a while and YouTube wants to make sure you're still interested in the video you're watching. Another possibility is that you're watching a long video, and YouTube wants to confirm that you don't want to stop it before it's finished.
How to turn off are you still watching Youtube mobile?
If you're using YouTube on your phone, we have 2 methods to disable youtube are you still watching.
Method #1: Use Kiwi Browser
The extension feature of Google Chrome is not supported on mobile devices. However, the "Kiwi Browser" web browser supports it. The Kiwi browser may add extensions by following these steps:
Open the Kiwi browser on your phone
Tap on the three-dot menu button and select "Extensions"
Tap on + (from store) or directly open the Chrome Web Store using this link
Search YouTube NonStop and add the extension to the browser
Enjoy an uninterrupted experience on YouTube
Method #2: Use Youtube Premium
The video platform YouTube offers a paid subscription service called YouTube Premium (formerly known as YouTube Red). It provides ad-free video viewing, offline playback, video downloads, background video playback on mobile devices, exclusive pay-walled content created by well-known YouTube personalities, and access to YouTube Music.
The prompt notice "Video paused" will no longer appear when you subscribe to a premium service. Continue Watching," however you will not see any bothersome YouTube commercials and you can also play background YouTube videos.
Although YouTube Premium costs $11.99 a month, new subscribers can try it out for free for the first month. It is presently possible to subscribe to the aforementioned YouTube Premium Lite for €6.99 in European nations, but it is unclear what that cost would be for potential US consumers ($6.99 per month is a reasonable price).
Related post: What are Public Watch Hours on YouTube? Tips to increase it
How to disable are you still watching on youtube on Computer?
For those who like to binge-watch YouTube videos, the "are you still watching?" prompt can be quite annoying. Luckily, there's a simple way to disable it. All you need is the YouTube NonStop extension for your browser.
Here's how to do it: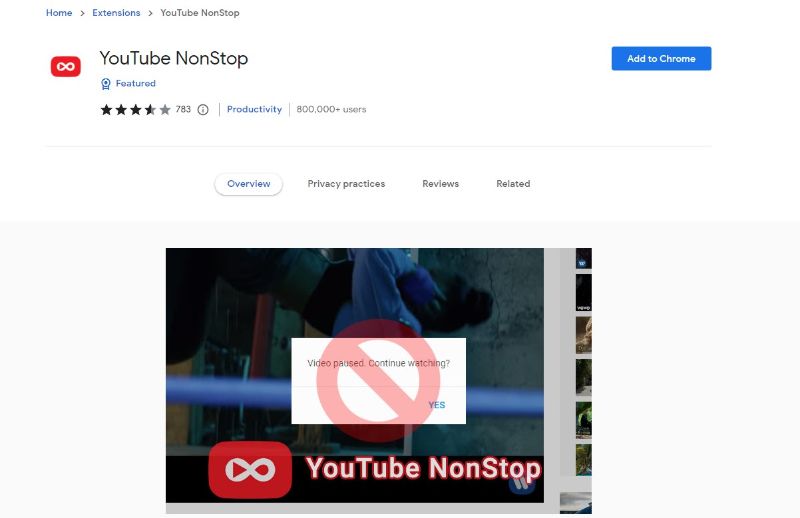 Just like how to disable are you still watching youtube on your phone, we encourage you to use youtube premium for the best experience.
Now that you know how to turn off "Are you still watching?" message on YouTube, you can enjoy your videos without the interruption! Have you tried disabling this feature? How did it go? Let Repeattube know in the comments below.